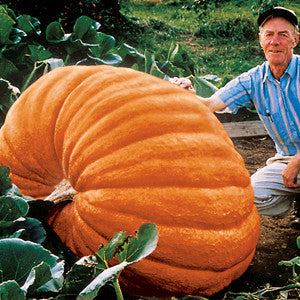 Dill's Atlantic Giant Pumpkin (15 seeds)
Dill's Atlantic Giant Pumpkins seeds produce HUGE pumpkins! The record for this variety is 1,725 lbs. Slightly rough skin that varies from yellow to orange. 120 days.
Start seeds in peat pots, or rockwool cubes
Requires a long growing period to fully mature, so plant early!
Green Thumb Tip:  Needs full sun, protect from wind. Space hills 16'-21' apart. When plants reach 3"-4" high, thin to one plant per hill. After first pumpkin is set, remove all other fruit which may appear during the course of the growing season for larger size.
---
We Also Recommend
---