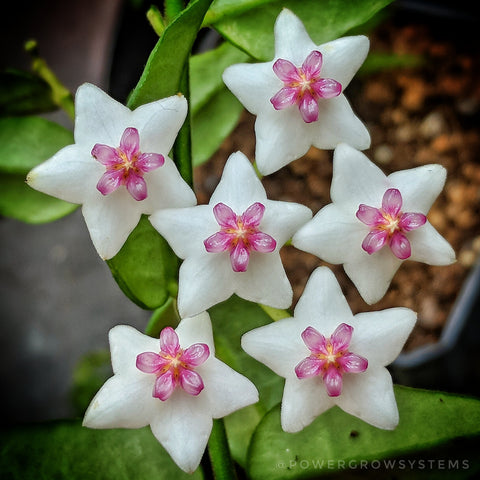 Hoya Bella (Live Plant) in 4" Pot
Hoya Bella (Hoya lanceolata bella) or Miniature Wax Flower is an absolutely stunning and easy to grow houseplant that requires very little maintenance and will produce gorgeous foliage and beautiful blooms. The leaves are deep green and glossy, and the flowers are borne in small clusters of white with pink centers that look almost like plastic.
PREORDER NOTICE! Orders placed after 5/20/2020 will take about 3-4 weeks to ship. Thanks!
Hoya Growing Tips & Tricks:
Hoya Bella thrives in small containers. You shouldn't need a container larger than 4-6" even when the plant is large.
They love being placed high (hanging pots or on a shelf) where the vines can drape downward.
They enjoy indirect light, and can also thrive in low light areas.
For watering...give the soil a good soaking, then let it drain completely. The roots do not want to sit in standing water. Don't water again until the surface of the soil is dry. 
Apply a balanced liquid fertilizer with every other watering, or once every few weeks. (We recommend CNS17 Grow during the winter months, and CNS17 Bloom during the summer - Click here), or if you want a 'Feed it and Forget it' fertilizer, try our specialized Houseplant Fertilizer that lasts for 8 months! Click Here.
Our Hoya Bella plant starts are fully rooted and are shipped in 4" pots and that have been meticulously cared for and pruned to optimize vine branching and be more full. We hope you enjoy them as much as we do! :)
**IMPORTANT NOTE*** These are 'Baby Plants'. These hoya plants are fully rooted and ready to grow. The plant you receive will be an immature version of what you see in the photos. Vines will be between 3-8" when they arrive, and may be pruned prior to shipping to prevent damage and encourage branching. Don't worry if your plant arrives with a few leaves that have been knocked off during shipping. Once you get your plant into it's new home it will recover quickly and you should see new green growth and shoots in just a week or two :) If you have any questions about the condition your plant arrived in, please snap a picture and let us know so we can answer any questions you may have :) Thanks again!
---
We Also Recommend
---