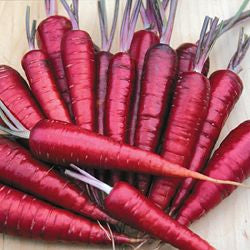 Purple Dragon Carrot (300 seeds)
The most refined purple carrot available; bred by John Navazio. Sure to be the best selling carrot at specialty and farmers' markets. Beautiful red-purple exterior provides an amazing contrast with the yellow-orange interior when sliced. Sweet, almost spicy flavor. 90 days.
Sow oudoors 3-4 weeks before last frost
Plant 1" apart and 1/4" deep
Thin to 2-4" apart
Full sun
Green Thumb Tip: Sow seeds outdoors 3-4 weeks before last spring frost or as soon as soil can be worked. Tamp soil firmly; keep bed moist until emergence. Germination is slow and uneven, so be patient. Using spun polyester row covers may improve germination rates.
---
We Also Recommend
---