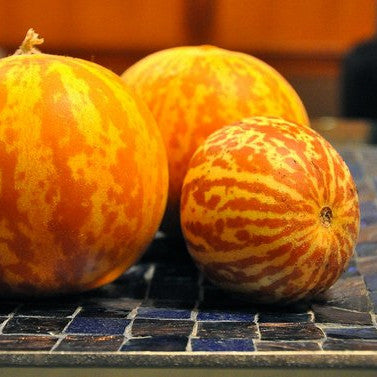 Tigger Melon / Tiger Melon Seeds (10 seeds)
Armenian heirloom. Baker Creek Heirloom Seed Company brought this stunning variety to our attention. Vibrant yellow fruits with dark orange zigzag stripes. The fragrance is heavenly and the fruit similar to Queen Anne's Pocket Melon. However, Tigger is heavier (about 1 pound), and the white flesh is mildly sweet. Ornamental, for specialty markets. 85 days.
Sow seeds outdoors 1" deep. 6-8 seeds per hill
Germination in 7-14 days
Thin to 3-4 plants per hill
Full sun
Green Thumb Tip: Melons love heat. Sow seeds outdoors in 12" diameter hills after danger of frost has passed and soil has warmed. Space hills 6' apart in all directions. Seeds will germinate in 4-10 days. Can also be started indoors 2-3 weeks before last frost.
---
We Also Recommend
---