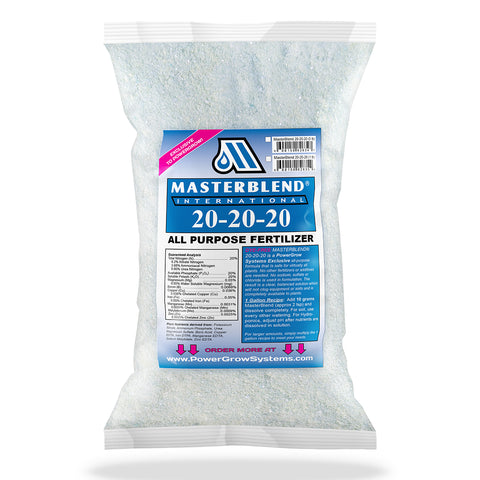 MasterBlend ALL PURPOSE 20-20-20 Fertilizer
MasterBlend ALL PURPOSE 20-20-20 fertilizer - MasterBlend fertilizers have been the go-to Hydroponic and Garden fertilizers for commercial growers for a long time. The NEW single step All Purpose 20-20-20 was specially formulated to provide a fully balanced all purpose fertilizer that is free of artificial colors and dyes, is fully water soluble, does not require any other additives, and can be used with both Hydroponics and Soil gardening! 
MasterBlend 20-20-20 All Purpose Fertilizer is fully Water Soluble

Made by MasterBlend for PowerGrow Systems!

Highly concentrated! Just 2 tsp per gallon of water.

Master Blend fertilizer is perfect for Hydroponics and Soil gardens
Please note that using a scale that is accurate to grams is the best way to measure. If approximating, use the following guidelines:
1 tsp Masterblend 20-20-20 = Approx 5g

1 Gallon Recipe: Add 10 grams MasterBlend (approx 2 tsp) and dissolve completely. For soil, use every other watering. For Hydroponics, adjust pH after nutrients are dissolved in solution.

*For larger amounts, simply multiply the 1 gallon recipe to meet your needs.
Guaranteed Analysis
Total Nitrogen (N)................................. 20%
6.2% Nitrate Nitrogen
3.88% Ammoniacal Nitrogen
9.90% Urea Nitrogen
Available Phosphate (P2O5)................ 20%
Soluble Potash (K2O)........................... 20%
Magnesium (Mg) .................... 0.05%
0.05% Water Soluble Magnesium (mg)
Boron (B) ..................................... 0.0068%
Copper (Cu)................................... 0.036%
0.036% Chelated Copper (Cu)
Iron (Fe).............................................0.05%
0.05% Chelated Iron (Fe)
Manganese (Mn)............................0.0031%
0.0031% Chelated Manganese (Mn)
Molybdenum (Mo)..........................0.0009%
Zinc (Zn)........................................ 0.0025%
0.0025% Chelated Zinc (Zn)
---
We Also Recommend
---